| | | |
| --- | --- | --- |
|  Event or Festival |  Day/Month |  Location |
| Nillamba Meditation Center | Throught the Year | Nillamba, Kandy |
|  Duruthu Perahera |  January [ Poya day] |  Kelaniya Temple, Colombo |
|  Galle Literary Festival |  January/February |  Galle |
|  Elephant Polo Tournament |  February |  Galle |
|  Navam Perahera |  February [ Poya day] |  Gangaramaya Temple, Colombo |
|  National Day |  February 4th |  Central Colombo, Colombo |
|  Medin |  March [ Poya day] |  Sri Lanka |
| Tea Festival | April | Nuwara Eliya |
|  Sinhala & Tamil New Year Festival |  April |  Sri Lanka |
|  Bak |  April [ Poya day] |  Sri Lanka |
|  May Day |  May 1st |  Colombo |
|  Vesak Festival |  May |  Sri Lanka |
|  Walk the World |  June |  Colombo |
|  Poson Festival |  June |  Ambasthale Dagoba, Mihintale |
|  Esala Festival |  July |  Kataragama Shrine, Kataragama |
|  Mayurapathy Chariot Festival |  July |  Sri Paththirakaali Amman Temple, Colombo |
|  Hikkaduwa Beach Festival |  July/August |  Hikkaduwa |
|  Vel Festival |  August |  Colombo |
|  Kandy Perahera |  August |  Kandy |
|  National Festival of Kites |  September |  Mount Lavinia Beach, Lavinia |
|  Navarathri Festival |  September/October |  Sri Lanka |
|  Sri Lankan Airlines Golf Classic |  October |  Victoria Golf Club, Kandy |
|  World Spice Festival |  November |  Colombo |
|  Deepavali (Diwali) |  November |  Sri Lanka |
|  Adam's Peak Festival |  December to April |  Adam's Peak |
|  Ulpotha: Retreat to the Extreme |  N/A |  Ulpotha |
| Festival of our Lady of Madhu | July / August / Oct. | August 15th festival draws a million people |
|  Vipassana Meditation Centre |  N/A |  Vipassana Meditation Centre, Kandy |
Tourist Events Sri Lanka August. Kandy Esela Perahera, ticket are available at Lespri Grand & Club Lespri. Email priyanthi@lespri.lk
Date :  17th to 27th August 2018
The Esela Procession of Kandy is the ostentatious pageant of the Asia held annually to respect the sacred Tooth Relic of Lord Buddha which is honourably housed at the palace of Kandy called DaladaMaligawa. Representing a unique symbol of Sri Lanka, the procession consists of many traditional local dances such as fire-dances, whip-dances, Kandyan dances and various other cultural dances. Elephants are usually adorned with lavish garments to honour the procession. Traditional event designers have properly synchronised the colours used for the procession with lighting to create more elegant and contrasted scene all over the procession.
Justifiably the most celebrated religious and cultural pageant in South Asia, the Kandy EsalaPerahera rings the goriest history of ancient Sri Lanka alive before your eyes. No other pageant anywhere else in Asia embodies so many historical cultural, political, spiritual and emotional elements of the nation. Beautifully caparisoned elephants, whip crackers and flame throwers, traditional dancers and drummers are some of the participants that threads through the old torch / lit streets in this truly exotic experience which has changed little over the centuries.
The Kandy EsalaPerahera begins with the KapSituveema, with a sanctified young Jackfruit tree (Artocarpusintegrifolia) is cut and planted in the premises of each of the four Devales (Shrines of Gods) dedicated to the four guardian gods Natha, Vishnu, Katharagama and the goddess Pattini. Traditionally it was meant to shower blessing on the King and the people. The festival ends with the traditional diya-kepeema ritual, a water cutting ceremony which is held at the Mahaweli River at Getambe, Kandy.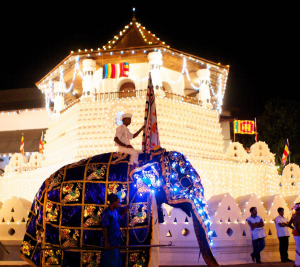 Web :  www.sridaladamaligawa.lk